NEXT MEETING
Fourth Monday of each month, 6:30pm City Hall
2013 Digital or Dark Fundraising Campaign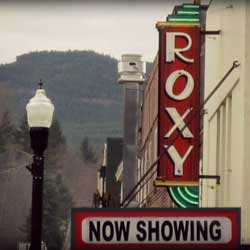 Update: Mission Accomplished!
December 17, 2013 - We are thrilled to announce our Digital or Dark Campaign has attained its goal of raising funds to purchase the equipment necessary to keep first-run movies showing at the Roxy Theater! We want to thank all who have supported this fundraising effort. We thank those who contributed financially and those volunteers who worked at our fundraising events and those who helped coordinate our campaign. We are proud to be part of a community that understands the importance of working together to make good things happen!
In 2013, a committee calling itself the "Digital or Dark" Committee, concentrated their efforts on raising $42,000 to purchase a digital projection system to enable the Morton Roxy Theater to continue showing first run movies each week.
The motion picture industry will no longer be producing 35mm films after the end of 2013. In fact, many major releases are already unavailable in the old format. The Roxy Theater in Morton is one of hundreds of small movie theaters across the nation who still relies on old film projectors. Their only recourse is to install digital projectors to enable them to "go digital" by the end of this year. Morton joins hundreds of small communities who have to reach out to their communities for help to raise funds.
Fundraising Efforts
Spaghetti Feed at the Moose - On October 19, the Morton Moose organization is having a Spaghetti feed with all proceeds going to the Digital or Dark Fundraising Campaign.
Autumn Music Fest - Listen to the sounds of choirs from area churches, sing-alongs, and soloist Jacob Weber. Sponsored by The East County Journal. All proceeds will go to the Digital or Dark Fundraising Campaign. October 27 at 4:00 p.m.; Tickets: $5 adults; $2 children 6-12; children under 6 are free.
Sponsor a Seat - Purchasing naming rights to a seat at the Roxy Theater for $250
Ongoing contributions of small change at various East Lewis County businesses as well as at the Roxy Theater will go on throughout the year.
Larger donations are being collected at all branches of Sterling Savings Bank in a fund set up for the Digital Projection project. In Morton, please drop by or call 192 Adams Ave., Morton, WA 98356, (360) 496-5155.
Digital or Dark Golf Tournament was held on Sept. 7th at the Glenoma Ironwood Green Golf Course. The four person scramble over 12 holes (each player must have 2 tee shots counted) will cost $40 per person and will include a ticket for a snack at the store. Prizes and awards will be given for 1st, 2nd and 3rd place as well as last place. Awards will also go for those NTP (nearest the pin) which includes 2 holes for the ladies (5th and 12th hole) and men (8th and 10th hole). The longest drive for men and ladies will also receive prizes.