Breathe Easy in the Mountains...
Activities
Explore the White Pass Scenic Byway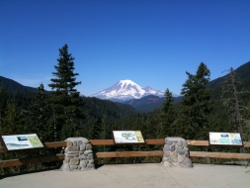 Morton is located along the nationally recognized White Pass Scenic Byway. Noted as "The Playground of Volcano Country, this 124-mile corridor US Highway 12, passes through small communities, resource lands, river valleys, foothills and alpine county. For many visitors, from within the region or around the world, the byway is a route for exploring Mount Rainier, Mount St. Helens and Mt Adams. For those in the know - either canny locals or niche recreationists from around the country - there are amazing recreational opportunities all along the byway, in every season, from hiking and horseback riding to skiing and white-water rafting. The region surrounding the byway includes privately-owned residential, agricultural, commercial and forest land properties, as well as state parks, wildlife areas, power projects with associated recreation lands, the Gifford Pinchot and Okanogan-Wenatchee National Forests and Mount Rainier National Park, Mt. St. Helens National Monument and Mount Adams Wilderness Area. Click here to download your Drive Tour Map. Visit the White Pass Scenic Byway website for more information. (photo for listing attached)
Tour Local Fish Hatcheries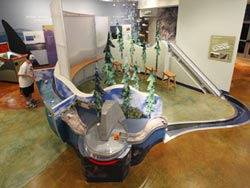 See how hatchery fish get their start at Tacoma Power's Cowlitz Salmon Hatchery and Visitor Center. Opened in 2012, the visitor center provides one-of-a-kind opportunities for people of all ages to engage in hands-on, interactive activities learning the life cycle of salmon. Learn how Tacoma Power sustains natural and hatchery salmon populations in the Cowlitz River while providing fish for harvest – as it generates clean, renewable electricity at the Cowlitz Hydroelectric Project. The salmon hatchery produces nearly 13 million fish each year, including about 1.3 million spring Chinook, 5 million fall Chinook and 2.4 million Coho salmon. The Cowlitz Trout Hatchery is also nearby producing 1.5 million fish each year, including summer and winter steelhead and sea-run cutthroat trout.
Go Camping & Picnicking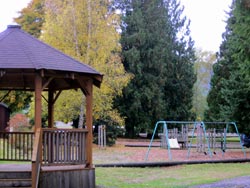 Locals enjoy the much-loved Gust Backstrom Park for activities from ball games to family reunions to swimming and riverside fishing. A playground, covered picnic area and restrooms are available and an RV park on site offers campers full hookups. Access to the river and nearby trails also compliment the amenities of this pretty park located just on the edge of town.
Surrounding Morton is a wide variety of lake camping and picnicking options. Ike Kinswa State Park and Mayfield Lake Park are situated on the shores of Mayfield Lake, while neighboring Riffe Lake offers Mossyrock Park. Swimming, fishing, watersports, and of course picnicking and camping are all available. The US Forest Service also maintains a diverse cluster of locations, many along the White Pass Scenic Byway and in the Gifford Pinchot National Forest. Within an hour's drive from Morton, Mt. Rainier National Park attracts over a million visitors each year for activities such as camping, hiking and picnicking.


Hit the Ski Slopes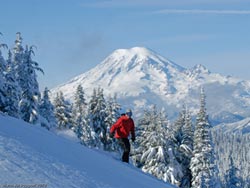 The White Pass Ski Area offers premier skiing and the driest powder in the Cascades. Averaging over 300 inches of snowfall a year, ski and boarding enthusiasts of all ages and skill levels will enjoy relaxed slopes and steep runs. White Pass, located an hour up the road on US Highway 12 is also known as one of the top mountains to board in the Northwest. From its half pipe and natural quarter-pipes, drops and chutes, these runs will challenge the most experienced boarder. The long anticipated Paradise Basin Expansion with 767 additional acres is served by 2 quads and a mid-mountain lodge. White Pass now boasts nearly 1500 acres and over 2000 vertical feet of terrain for skiers & riders of all abilities.
Encounter the Area Wildlife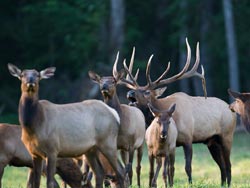 It's not surprising that wildlife watching is a big deal in the Morton area. View mighty elk grazing, see bald eagles soaring, and catch evidence of beavers making their dams. The nearby "Big Bottom Valley" is a wide river plain with the Cowlitz River winding through rich farmland and riparian areas. Fields in this area are often filled with elk, quietly grazing in the bottomland fields. The rocky terrain of the Goat Rocks Wilderness is home to many mountain goats at higher elevations. Woods Creek Wildlife Area near Randle and Swofford Pond in the Mossyrock area popular for bird watchers. Catch the beautiful vistas of the wildlife area from paved roads such as the Champion Haul Road along the east side of Riffe Lake or Young Road and Green Mountain Road near Mossyrock.

The countless creatures from mighty elk to tiny Western toads are a testament to Tacoma Power's wildlife commitment on the Cowlitz River Hydroelectric Project. The foundation of the program is the Cowlitz Wildlife Area. It is one of the largest designated wildlife areas in Western Washington, encompassing more than 14,000 acres of forests, wetlands, lowland valleys and riparian habitats. The Peterman Ridge Unit is the largest on the Cowlitz Wildlife Area, with 6,840 acres south of Morton. The 243-acre Davis Lake Unit is located east of Morton. In addition to several large fields that are mowed to maintain forage values, there is a large pond, wetlands and forested/shrub corridors.
Visit Northwest Trek Wildlife Park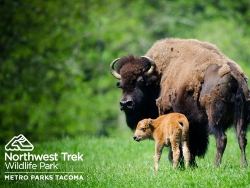 Get to know our area's native Northwest animals at Northwest Trek. Enjoy a variety of wildlife viewing options from tram rides to close encounters highlighting many of the diverse native wildlife in the Pacific Northwest. From Elk to Bison, and eagles to owls, you will learn and discover programs designed to help everyone respect our native creatures. Along its beautiful, winding walking trails you can view over 200 North American animals, representing over 30 species. The varied habitats of Northwest Trek create a scenic landscape with lakes, meadows, forests and streams. A fan favorite is the 55-minute tram tour of the 435-acre free-roaming area of the park. Spot bison, woodland caribou, moose, Roosevelt elk and others, grazing in fields, wandering in the forest, and possibly right outside your seat on the tram. This 725-acre wildlife park is tucked away in the forest near Mt. Rainier just outside the community of Eatonville, a nice day trip from Morton.
Go Fishing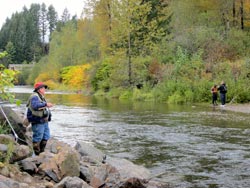 Drop your line in the surrounding fish-filled waters near Morton. Mayfield Lake is known for its Coho salmon, and rainbow and cutthroat trout fishing. Riffe Lake catches include landlocked Chinook salmon, brown trout, crappie, largemouth and smallmouth bass, brown bullhead and bluegill. These lakes are stocked each year by Tacoma Power – the fishing is good! An interesting fact, tiger muskies were experimentally planted in Mayfield Lake by the State of Washington in 1988 as a sport fish and for biological control of the undesirable northern pike minnow population. Plantings of these fish continue today and tiger muskie tourney are held annually.
On the outskirts of Morton, the Tilton River offers excellent bank fishing. Anglers find a variety of fish including rainbow trout, smallmouth bass and largemouth bass. Your chances are pretty good of getting a bite. A popular fishing spot is accessed at Gust Backstrom Park.
For a more intimate fishing experience, head to Swofford Pond, a shallow, 240-acre artificial pond, stocked by the State of Washington with rainbow, brown and cutthroat trout. It also offers fishing for resident largemouth bass, channel catfish and bluegill fishing. Only electric motors are allowed, so fishing here is often a little more quiet.
"Home of the ten pound trout," Mineral Lake is another haven for anglers in spring and summer. The fishing season opens the last Saturday in April and runs through September 30th. More than 100,000 fingerling rainbow trout are planted each year, and good fishing is anticipated for trout up to 12 inches. A public fishing dock provides very good access for all anglers and a private resort provides boat rentals.
Have Fun at Victory Lanes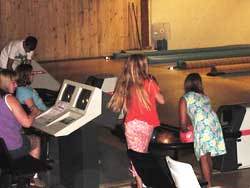 At Victory Lanes, hit the lanes and have a great time at this 10-pin bowling alley in Morton. This family owned fun center also features an arcade, Rockin' Bowl, dining and league bowling. WiFi is available.