Breathe Easy in the Mountains...
Lodging and Camping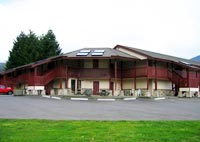 Seasons Motel
200 Westlake Avenue
Morton, WA 98356
(877) 496-6835
reservations@whitepasstravel.com
Amenities:
Children of all ages, internet, pets
Overview:
Professional, friendly staff is happy to greet visitors at The Seasons in their comfortable and newly remodeled lobby. The Seasons Motel is a AAA-rated, 49 unit motel situated at the doorstep of Morton welcoming visitors into this rural mountain community. Along with flat screen televisions, The Seasons offers Wi-Fi, microwaves & refrigerators, blow dryers, and other amenities in every room. Hot continental breakfasts are offered every day in the lobby from 7:00 a.m. to 10:00 a.m. Children and small pets are welcome and parking is free.
---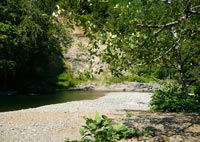 Gust Backstrom Park
750 Main Ave.
Morton, WA 98356
(360) 496-6844
Park Map
Overview:
Gust Backstrom Park is situated on the western edge of Morton along the Tilton River. Open year-round for outdoor fun, this park has a playground, covered picnic area, restrooms and an RV park with 24 hour on-site caretakers. Enjoy fishing on the banks of the river. Full hook-ups, power & water only, and tent only sites are available.
---
Nearby Lodging
Adytum Sanctuary
186 Skyview Drive
Mossyrock, WA 98564
(360) 983-8008 OR (360) 790-2011
katacarroll@gmail.com
Amenities:
Internet, salt water hot tub, yoga mats, luxury linens, kitchenette
Overview:
Reconnect with all that really matters in life in the beauty and peace that is…Adytum Sanctuary. Adytum is located on Birley Mountain thrusting three stories into the sky above Lake Mayfield and the Tilton and Cowlitz Rivers, above acres of blueberries and tulip farms. With 75 windows, it is a house of light. Guests feel Adytum is a peaceful retreat providing time to think, to plan, to create...
---
Historic Mineral Lake Lodge
195 Mineral Hill Rd. / P.O. Box 247
Mineral, WA 98355
(360) 492-5253
minerallakelodge@yahoo.com
Amenities:
Internet, fireplace, Children over 12 welcome
Overview:
This historic log lodge has the most magnificent view of Mt. Rainier and Mineral Lake anywhere in the Nisqually Valley. The lodge is an 8 guest room B&B and a national treasure. Built in 1906 the lodge is listed on the National Register for Historic Places. The 3 acres include 215 feet of private pristine waterfront on Mineral Lake. The perfect place for weddings and special occasions.